My name is Ted Thomas. I've been involved with tax lien certificate sales and tax deed sales for the past 3 decades
Today I'm answering your questions about Broward County tax deed sales, and the topics I'm going to cover are:
Want to learn how to purchase bargain real estate? Would you like to buy mortgage-free property for pennies on the dollar? Or earn double-digit interest rates secured by real estate? Then you don't want to miss this FREE Mini Course.
How Broward County Tax Deed Auctions Work
Today we will discuss Broward County tax deed sales. You probably know this county because of its major city which is Fort Lauderdale.
The tax deed sale is really an auction, and the property will be sold to the highest bidder. Broward County may conduct more than one tax defaulted auction per year.
Broward County tax deed sale auctions are promoted online. However, in the past, they've also been offline in a large room at the county facility.
The county reserves the right to use independent auction companies and allow the county to supervise the auction.
To find Broward County tax deed sale information, one would just search on the Broward County website to download the rules and list of properties. The website has dozens of questions and the answers are listed for newcomers.
The Broward County tax deed sale is a very active auction; people travel from around the United States to attend. Property prices are high, and bidders are aggressive.
I have a free gift for you, a special mini course that will show you how to profit with tax lien certificates and reveal the secrets of tax deed investing. Get your FREE gift today.
What Type of Deed Is a Broward County Tax Deed?
Real estate is sold as-is at the tax sale, so do your due diligence prior to bidding.
Shortly after the auction, the county will issue a deed. It's important to note that it will not be a warranty deed.
The county may call it a treasurer's deed, tax collector deed, or sheriff's deed. However, for all intents and purposes, it will more than likely be a quitclaim deed or function as a quitclaim deed regardless of what it is called.
What is a quitclaim? I am not an attorney, but from a layman's standpoint, a quitclaim deed tells the buyer that the issuer is not responsible for the condition of the property or any defects in the title.
Doing Your Due Diligence on Tax Deed Sale Properties
In other words, Buyer Beware, which is why you must do your homework on the properties that you plan to bid on.
Most of your property research can be done online using the information that's provided on the list of properties downloaded from Broward County's website. However, don't rely on online information alone to assess the condition of real estate.
Online images may be outdated, so be sure to go out to take a look at the property or have someone do it for you.
It's not uncommon for tax sale properties to be somewhat used and abused, but you don't want to buy junk. Make sure you're not buying junk.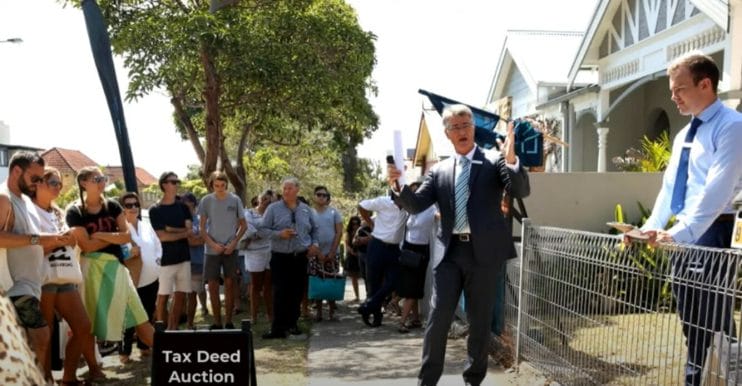 Buying Tax Deeds in Broward County for Big Profits
The objective for most buyers at the Broward County tax deed sale is to buy at the best price possible then sell at market price and have a large margin between the two.
Since properties can be purchased mortgage-free for pennies on the dollar of the assessed value at tax sales, you could find yourself owning a property with a sizable profit margin.
Buying for 10, 20 or 30 cents on the dollar then reselling for 50 or 60 cents on the dollar can generate cash flow quickly, and the process is repeatable.
Conclusion
We hope you enjoyed Ted's lesson, "Broward County Tax Deed Sale"
Broward County tax deed sales are popular and the bidding is competitive. It's important to do your research before you attend. Know the auction rules, and do your due diligence on the properties before bidding.
At a Broward County tax deed sale, properties are sold mortgage-free to the highest bidder. While property prices in that area are high, real estate can be purchased for pennies on the dollar at Broward County tax deed sales for big resale profits.
If you'd like to know more about tax delinquent property investing, Ted Thomas provides full support and complete training with home study courses, Q&A webinars, live tutorials, workshops, web classes, and personal coaching with certified coaches.
Learn how to reap huge rewards from tax lien and tax deed investing! Get started today by taking advantage of Ted's Free Master Class! Act now, it costs you nothing and will give you a big head start!
Ted Thomas is America's Leading Authority on Tax Lien Certificates and Tax Deed Auctions, as well as a publisher and author of more than 30 books. His guidebooks on Real Estate have sold in four corners of the world. He has been teaching people just like you for over 30 years how to buy houses in good neighborhoods for pennies on the dollar. He teaches how to create wealth with minimum risk and easy-to-learn methods.