Is Social Security Going Broke?
With more people applying for Social Security, many are wondering is Social Security going broke? Do you have to worry?  Find out what changes might be happening to this system in the near future!
Today I'm going to answer your question, "Is Social Security going broke?"
What will happen when Social Security runs out? Is Social Security going to collapse? Everyone worries about the future and where the next check is coming from. You're not alone.
Will Social Security be around in 30 years? Will Social Security run out for Millennials? The younger generations are especially concerned.
Is Social Security Going Broke? – A Political Football
Social Security is a political football, and the Congress of the United States drags their feet and thinks of lots of reasons not to get it fixed.
For everyone living within the borders, Social Security is a conversation that takes place every day. No one is immune from wanting more benefits, and we all hate to pay the taxes required to create those benefits.
Want to learn how you can profit from bargain real estate? Would you like to buy mortgage-free homes for pennies on the dollar? Or earn double-digit interest rates? Learn how you can secure your financial future with this FREE mini class on alternative real estate investing!
Is Social Security Going Broke? No!
So is Social Security going broke? Is Social Security in danger? No, Social Security is here to stay.
Over 60 million people in the United States collect money monthly from the Social Security Administration. There's just no way it's going to stop.
A better question to ask is, what changes are going to take place? Will there be less benefits? Will there be more benefits? Will they change the retirement age? I don't know.
Social Security is not going broke. The revenue that employees and employers are contributing may change. Benefits will change. Retirement years may change. The point is the system needs revision.
Is Social Security Going Broke? – An Increase in Applications
Currently, according to the Social Security Administration, 10,000 new applications for Social Security are received and granted every day. That's right, the Baby Boomers have matured.
As shocking as it sounds, 10,000 people a day will increase to a larger number before they decline.
You are probably wondering where the money comes from to pay all those benefits checks.
According to the Social Security Administration, they collect $2 billion dollars a day in contributions from employees and employers.
Is Social Security Going Broke? – Social Security Contributions
Why Social Security is failing? The biggest problem, not just in the USA, but in all countries of the world, is that people live longer, and add to that they don't create babies, like they did 40 or 50 years ago.
Currently, workers contribute 6% of their wages into the Social Security system. Let's not forget their employers. They match that 6% with their contribution.
Wow! 12% of wages are contributed to the Social Security system. Of course, there are other additional systems, like Medicare and Disability payments that I'm not discussing here.
Is Social Security Going Broke? – Retirement
For most readers, now would be a good time to start thinking about your retirement. Depending upon who is counting, in the United States we have over 60 million people collecting benefits.
As I said, 10,000 new Boomers apply and qualify for benefits daily. According to projections, 83 million people will be getting Social Security benefits by the year 2037.
Times have changed. Fifty years ago, each person collecting Social Security had at least 16 people employed and contributing to Social Security. Today, it's very close to 3 working and contributing for each person collecting benefits.
By 2037, the Social Security Administration expects only 2 working and contributing revenue for each person collecting benefits.
Is Social Security Going Broke? – Changes to Social Security
Folks, the Social Security system is not going bankrupt. The system will survive. The payment structure and many other things will change.
It won't matter who the President is or which party controls Congress. They have no choice. It's impossible to shut off funding to 60, 70, or 80 million people.
If you've already figured it out, the government is going to cut benefits, and they may change the retirement age. However, I don't know exactly what the politicians plan to do.
Is Social Security Going Broke? – Fixing Social Security
Here are a few things to think about:
• They could raise the retirement age from 67 to 70 or over since people are living longer.
• The government could stop paying the COLA (cost of living adjustment) for inflation.
• They could reduce the benefits. Just imagine the controversy when that happens.
• The easiest change is to raise payroll taxes. However, this dumps the burden of the increased cost on the young people. Ouch!
• I'm not negative. I think most people realize we've waited way too long to make the necessary adjustments.
I'll give you a few solutions. I know many of you don't think you have enough money, and you're frustrated watching television news and hearing about young people becoming billionaires in the tech sector.
I don't know what you need. I do know you're going to need a lot more money in the next 10-30 years.
Learn how you can secure your retirement with this FREE mini class on how to invest in real estate the way the one-percenters have been investing for generations.
Is Social Security Going Broke? – An Alternative Solution
Maybe this is a solution. It's definitely an alternative real estate investment that's safe and pays lucrative profits.
200-years-ago, the governments at the state level realized they had a problem funding local county governments.
In other words, they needed money to pay for the schools, fix the roads, contribute to the hospitals, and pay county employees like teachers, police and firefighters.
Is Social Security Going Broke? – Tax Defaulted Property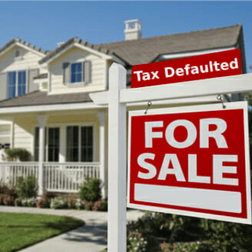 The remedy was simple. The state legislature passed laws requiring wealthy people who owned real estate to pay property taxes, and the revenues paid for the local government and the expenses I've just mentioned.
However, the challenge for the county and state was that not everyone had a good harvest, or many had no work because of down economies every few years. So, the wealthy property owners failed to pay property tax.
The county government, board of supervisors or county commissioners mandates that the treasurer levy property taxes and collect them.
If uncollectible, then after numerous notices of default are issued, the treasurer is authorized to confiscate the property and sell it at a public auction.
Is Social Security Going Broke? – Tax Defaulted Property Auction
Anyone may attend a tax defaulted auction and bid to purchase the property, The highest bidder wins.
The county does not want more property, just the unpaid tax revenue, so at these county auctions, properties have starting prices of 5 cents or 10 cents on the dollar of the assessed value.
That translates to 60%, 70%, and 80% or more discounts on real estate for auction buyers.
Imagine yourself purchasing a house for only 10 cents or 20 cents on the dollar, paying only $10,000 or $20,000 for a home with a tax assessed value of $100,000!
Is Social Security Going Broke? – Mortgage-Free Property for 10, 20 or 30 Cents on the Dollar
It gets better. Not only does the legislature authorize the treasurer to auction the property for a starting bid of just the back taxes, the treasurer is also authorized to cancel the mortgage at the official county records.
Auction buyers acquire real estate for pennies on the dollar, and those properties are free of mortgages and trust deed loans.
Is Social Security Going Broke? – Buying a Tax Defaulted Property
My students bid and buy properties and then resell them for cash or installment contracts. Most sales occur with low down payments and monthly payments.
For example, let's say a property's tax assessed value is $100,000, and the treasurer sells it at auction for 20 cents on the dollar.
So in this instance, the happy auction buyer only paid $20,000 for a $100,000 property.
Is Social Security Going Broke? – Selling a Tax Defaulted Property
The new buyer advertises the property for sale on Craigslist, eBay, Facebook Marketplace and dozens of electronic websites and advertises it with a huge discount off the $100,000 price.
Yes, the properties are sold at lower than normal prices. These auction buyers are using a system. Buy low and sell low quickly.
Is Social Security Going Broke? – Profit
Follow the example summary below:
The tax assessed value of the property is $100,000
The new auction buyer only pays $20,000 for it.
New auction buyer sells the property for $65,000
The new auction buyer accepts a $5,000 down payment
And the new auction buyer accepts payments of $600 a month
$600 a month times 12 months = $7200 annually.
New auction buyer accepts 10 years of payments at $7,200 = $72,000
Add the down payment of $5,000
Total amount collected = $77,000
Total invested = $20,000
Profit = $57,000
Disclaimer: Ted Thomas is not a financial advisor, real estate broker, certified public accountant or an attorney at law. This is an example.
Is Social Security Going Broke? – Conclusion
We hope you enjoyed Ted's lesson, "Is Social Security Going Broke?"
A lot of people worry about the future of Social Security, though the reality is that Social Security is just too big to fail. Tens of millions of retirees depend on it, so it must be fixed.
How it will be fixed is up for speculation. Perhaps, they'll raise the retirement age, decrease benefits, stop COLA, raise taxes, or some combination of all the above.
Social Security will remain, but will it be enough? Is Social Security enough for retirement? Very unlikely.
If you're concerned about your future and want to spend your retirement years enjoying a higher standard of living instead of scraping by on a lower one, Ted Thomas has a solution.
There is a little-known investment that's safe, secure, and pays outrageous profits. If you want to secure your financial future, no longer depending on the government or an employer for your retirement, then this investment could be exactly what you're looking for.
Tax delinquent real estate is sold by counties at auctions, both online and offline, at incredible discounts. Starting bids begin around the amount of the unpaid property taxes, enabling investors to buy properties for 10, 20, or 30 cents on the dollar.
Additionally, these properties are sold without a mortgage.
Since you can buy at a huge discount, you can also sell at a discount for a quick sale to generate cash flow fast, or offer installment payments to create streams of residual income.
Earning $25,000, $50,000 or even $100,000 from one transaction is not uncommon. People have become financially independent by doing this part time.
If you'd like to learn more about this lucrative, yet little-known, way to invest in real estate, there's no one more qualified to teach you than Ted Thomas, America's leading authority on tax lien certificates and tax defaulted property investing.
Ted Thomas is the only one who provides full support and complete training with home study courses, Q&A webinars, live tutorials, workshops & web classes, and personal one-on-one coaching.
Get started today at no cost with Ted's FREE Master Class, that reveals the incredible opportunities available in tax defaulted real estate. The class is only about 1 hour of streaming video and contains life-changing information! You can't afford to miss it!