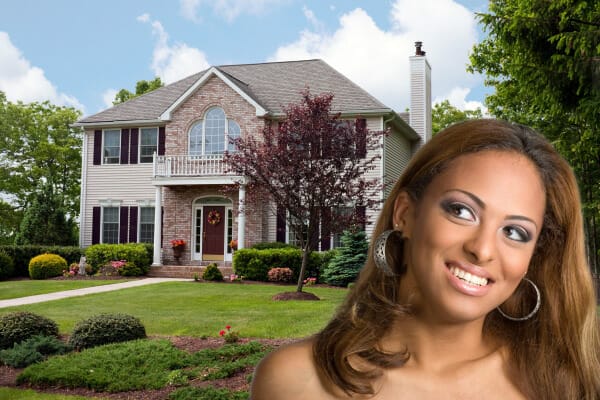 Realize the American Dream by saying I want to buy a home and doing it.
Today I'll answer your questions about how to buy a house, and the topics I'm going to cover are:
Want to learn how to purchase bargain real estate? Would you like to buy mortgage-free property for pennies on the dollar? Or earn double-digit interest rates secured by real estate? Then you don't want to miss this FREE Mini Course.
A Useful Tip for Buying a House
If you've never owned a home, chances are very good that you've said to yourself, "I want to buy a home." If that's you, here are the things you need to know about getting into your first home.
Think hard about what you want. Melanie Pinola has five tips every first time home buyer really needs to consider.
Her fifth tip is the most important. She says, "Don't be afraid to walk away." In other words, there are more houses out there. If something doesn't fit, feel right or you are just uncertain, don't buy it.
Buy an Affordable House
You must buy a home you can afford. That means making the monthly mortgage payment, plus insurance and taxes. If there's a homeowner association, those dues have to be figured into the cost as well.
Zillow offers this mortgage payment calculator. It gives you the total amount you can borrow, explains what the payment goes to, and allows you to vary the down payment, include your current debt load and your income.
The best way to find out how much house you can afford is to get pre-approved for a mortgage. Most banks offer this. The loan officer can walk you through the process, and you come out knowing exactly how much you can borrow and what the monthly payments will be. Taxes and insurance should be easy to estimate based on your loan amount.
Where to Find a House for Sale
Homes are for sale everywhere. You can go through the most common route and have a real estate agent find a home for you. You can look through the classified sections of local papers to find homes for sale by owners. Today many homeowners search online.
If you're willing to bide your time, you can even buy a house for pennies on the dollar to many thousands of dollars less than the fair market value of the house.
You're probably saying, "I want to buy a home like that right now." Unfortunately, it doesn't happen that fast.
The two routes to buying a home for less than it is worth are tax defaulted property purchases and short sales. Neither moves as fast as the traditional way of buying a house, but you certainly can save a lot of money.
I have a free gift for you, a special mini course that will show you how to profit with tax lien certificates and reveal the secrets of tax deed investing. Get your FREE gift today.
Buying a Home Cheap at a Tax Lien or Tax Deed Sale
A tax sale is when a house has unpaid property taxes. The local tax authority sells the tax at an auction, a tax lien certificate sale or a tax deed sale.
You don't get to choose the kind of tax sale. That's set by state law. The tax collector's office in your community can tell you which process is followed there.
Depending on the kind of sale, you can take nearly immediate possession of the home, or you have to give the homeowner time to pay you back.
At a tax deed sale, you can purchase the property outright.
At a tax lien sale, you purchase a tax lien certificate, which the property owner has the opportunity to redeem by paying you all your money back plus a high rate of interest. If they don't pay, then you get the property.
Regardless, property taxes are a tiny fraction of the value of a home, and at a tax defaulted property auction, the bidding begins at about the amount of the delinquent property taxes owed.
Additionally, the mortgage is extinguished, so you get the property mortgage-free.
You can find out when tax sales are held at the courthouse and in the local newspaper.
Ted Thomas has a perfect program for newcomers who want to purchase at tax defaulted auctions.
Buying a Home Via a Short Sale
This takes the most amount of time because the bank may be losing money on the short sale. The bank is going to consider offers from more than one buyer, and it's going to evaluate those offers carefully.
Most offers are rejected. The bank generally doesn't explain why.
You can get on the list to buy a short sale by talking to banks. Tell the mortgage department, "I want to buy a home, and I'm interested in buying a short sale."
While the house is being sold for less than what is owed, it's probably going to be sold to close to what it is worth.
If you go in with an offer well below fair market value, the bank will say no. If your offer is close to the what the house is actually worth, you stand a better chance of being successful.
The advantage here is when the bank accepts your offer, you're in. Sign the paperwork to buy the house; sign the mortgage documents and move in.
Conclusion
Need more information about buying your first home or investing in real estate? Look through Ted's blogs.
We hope you enjoyed Ted's article, "I Want to Buy a Home."
There are alternative ways to purchase a home inexpensively, like buying mortgage-free property for pennies on the dollar at a tax sale.
Just be certain about what you want and make sure it fits into your budget.
If you'd like to learn more about government tax defaulted real estate, which is sold at public auctions for 10, 20, or 30 cents on the dollar, or learn the secrets of tax lien investing to earn returns of 16%, 18%, 24%, and up to 36% and how to buy tax lien certificates online, then get started today with the FREE Master Class.
Ted Thomas is the only one who provides full support and complete training with home study courses, Q&A webinars, live tutorials, workshops & web classes, and personal one-on-one coaching.
Ted Thomas is America's Leading Authority on Tax Lien Certificates and Tax Deed Auctions, as well as a publisher and author of more than 30 books. His guidebooks on Real Estate have sold in four corners of the world. He has been teaching people just like you for over 30 years how to buy houses in good neighborhoods for pennies on the dollar. He teaches how to create wealth with minimum risk and easy-to-learn methods.