If you are ready to say goodbye to money worries, then you need to know the answer to the question, "What is a lien sale?" Before you try to answer, let me ask you a few other questions. 
How has 2020 made you feel about your financial future? How has the C-19 virus, and all the pandemonium of the economy affected your plans for retirement? How about your economic well being? What if I told you there was still a way forward, a way to put your worries about money behind you, even in today's economy? Are you stressed out about your financial situation? Are you ready to say goodbye to money worries? 
Well, what I'm about to share with you can earn you 10-30% interest on your investment, and you do not need lots of money to start. Are you interested yet? So what is a lien sale, and how can you take advantage of this and start making a really good return on your investment?
A lien sale is a predictable, certain, and secure way to make extra money you need! And it's guaranteed by law. By learning what is a lien sale, and how you can participate, you can join the countless people who have discovered the amazing financial power of tax-lien certificates, to help you take control of your financial future.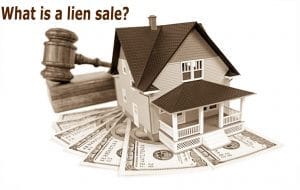 What is a lien sale, and what's the advantage over other investments?
Instead of buying a bond and earning less than the rate of inflation, or buying a stock and holding your breath in hopes the market, and your stock goes up, you will be able to predictably profit. 
Rather than taking some occasionally painful losses like every other shareholder, you can learn how to buy homes, land, lakefront home sites, condominiums, office buildings, and so much more for pennies on the dollar. Instead of looking for a second or third job to help you make ends meet, discover for yourself how to build wealth and create a fun-filled lifestyle that allows you to live life your way.
So now when you are asked," What is a lien sale?" You can say, "A tax-lien certificate is one of the best ways to achieve financial freedom available." 
One thing that you will have realized, is that these investments are starting to become well-known. In some circles, they are known as state tax liens. So when someone asks you, "What is a tax lien certificate?" You know what they are talking about. To find out how tax liens are defined by Investopedia, click here.
What is a lien sale? A tax lien by any other name
Remember, it doesn't matter if we are talking about tax lien investing, or tax-lien certificate investing, its all the same exciting opportunity just being called different things. There are blogs, websites, and even books all describing the same tax-lien certificates. Ted Thomas has authored over 30 books on the subject. 
When anyone asks you now, "What is a lien sale?" Even if they use any of the above terms, you at least know what they are talking about, and let me tell you where you can go to find out everything you will need to profit from lien sales. I can't recommend anywhere better than Tedthomas.com, where I got started.
Much of what originally got me interested in this field was the same difficult choices that I've mentioned above. My savings were destroyed by the downturn in the economy. I was struggling under a mountain of debt. No matter how much I tried, I couldn't see a light at the end of the dark financial tunnel that I found myself in. I was more than stressed out when I realized that I would have to work until I was 100 years old before I could retire at the rate I was going.
The man who showed me a way out of the situation I found myself in…Ted Thomas
Then a friend introduced me to Ted Thomas, his seminars, and their very valuable information. Ted has been teaching people like you and me how to become financially independent in any economic conditions for decades. He has assembled a team of experts who know this field, and the opportunities in it, well enough to teach anyone with the willpower and desire to thrive financially.
One of his students is Robert Shemin, who is an attorney and New York Times bestselling author. Let's see what he can tell us about making money with tax-lien certificates.
"Tax-lien certificates are both legal, and they are statutory; they are backed, approved, and written by state governments. They are safe, secure, and profitable. Actually, tax-lien certificates are how the governments collect their tax money when people don't pay their property taxes."
Real-life success stories from Ted Thomas students
One of Ted Thomas' students is John Hines. While participating in a tax lien sale, this was his experience in his own words, "The least expensive tax certificate that we bought was $27. We went on and we bought about four hundred of them over the next year, made about $100,000 profit that year. It was amazing! It was just the best feeling ever!"
Now, back to the question where we began, "What is a lien sale?" You see, when people don't pay their property taxes, the government issues a piece of paper. And that is a tax certificate. The government needs money! The government needs money to pay county employees, they have to pay the fire department, the police department – all those things are paid for with property tax. So if this person doesn't pay their tax every year, how are they going to pay all our government employees?
The government simply says, " If you don't pay your tax, we'll put a lien on your property for the amount you owe in back taxes."
Rocco Tripepi is another one of Ted Thomas' students. Let's hear his experience with tax liens, "I bought tax certificates, people that did not pay their taxes. I paid their taxes. I paid around $6,900, just shy of $7,000. I got 18% on my money, it just got redeemed in December. I got $1,890 back, which is 18% on my money."
Tax liens versus other investments
Where in today's economy, whether you look to banks, mutual funds, bonds, or even stocks are you going to get 18% on your money? It's not going to happen. And how many of you know that at 18% interest your principle doubles every four years?
If you are asking right now, "What's the catch, it can't be this easy to make huge profits, can it?" Well, in most cases, one of two things can happen. The program is made so that, in most scenarios, you get interest rates, those are the high rates that I just mentioned. For example, 16%, all the way to 36%, anybody can do that. You could start out buying tax-lien certificates as small as $50, or buy all the way up to $5,000, or even more, depending on the back taxes owed on the property.
The interest rates of the lien certificates can range widely, depending on several factors. The first of which is where you are buying them, meaning, which state you are in. So for example, let's say we're in Florida. The Florida statutory interest rate, which is the law, states they must start to offer 18% at the opening bid at the auction. Texas pays 25%, and Iowa pays 24%. Some states would pay you 16%, but you can go from state to state. If you live in Louisiana, they pay 15%, If you wanted to go to Maryland, 24%. You can buy those certificates, and begin making really good interest on your money.
As with any good opportunity, there is a whole lot to learn in order to be able to take advantage and not slip up. To see just a few things you should consider, see the U.S. News article on tax liens here.
Now just a few pointers before we finish up. Although they are often called a certificate tax lien, state law actually governs interest rates. In spite of this, they are actually sold by individual counties. So when you ask what is a lien sale, and you want to find out about tax-lien certificate investing, remember that you will have to bid on and purchase tax liens at the individual county where you wish to invest. Tax lien investing involves lots of homework and due diligence, and you have to learn what you are looking for and where to find it.
I highly recommend going to Ted Thomas.com, and you will see for yourself how much time and money Ted can save you by teaching you all the best techniques and tricks. When you have done all your homework, Ted even has coaches to walk you through the process step-by-step if you want. Now if you are ready for financial freedom regardless of the economy, and you want to start making amazing profits, go see the team at Ted Thomas, and get started.